The massage gun market has boomed in recent years. Massage guns allow athletes and general workout enthusiasts the opportunity to get deep tissue massage without visiting a massage therapist. 
Deep tissue massage is not a new thing with foam rollers, massage balls, and trigger point tools all being used to increase blood flow within the muscles (to aid recovery) and to get rid of muscle knots, aches and pains. The massage gun is a new product that allows you to do more accurate deep tissue work whilst also being convenient and more user friendly than rolling around on a foam roller!
In this article, I'll be reviewing one of the top massage guns on the market – the Pulseroll Pro Massage Gun. We'll cover specifications, uses, benefits, and most importantly, how to get the most out of your Pulseroll massage gun.
Who are Pulseroll
Pulseroll, founded in 2016 is a UK based company that specializes in vibration-based (percussion) massage and muscle recovery equipment. They use vibration technology to comfortably target sore muscles to reduce soreness after a workout, prevent and rehab injuries and reduce muscle tightness while increasing flexibility. 
Pulseroll is a premium company best demonstrated by their latest investor and athlete – Anthony Joshua. They are an innovative company and were the first company in the UK to release a vibrating foam roller. This innovation has been noticed within the athletic industry and Pulseroll has a range of partnerships which include:
British Gymnastics
British Rowing
Sheffield United FC
Norwich FC
What Is the Pulseroll Pro Massage Gun
While Pulseroll has a number of vibration-based massage equipment, one product, in particular, is at the top of the list and that is the Pulseroll Pro Massage Gun. The Pulseroll Pro massage gun is a full-sized and powerful massage gun with a number of speeds, attachments and uses. 
Key Features and Specifications
As a quick overview, the Pulseroll Pro massage gun has the following features:
Quiet working noise (70db)
4 x speed settings (1300 RPM, 1800 RPM, 2500 RPM, 3300RPM)
6 attachments (large round head, small round head, flat head, bullet head, pneumatic head, spinal head)
Force (around 22kg stall force)
Quick charge time (3 hours)
Long battery life (up to 5 hours) 
Premium quality 

Carry case
Fast delivery 
Thumb groove for comfort
| | |
| --- | --- |
| Pros | Cons |
| – Easy to use | – Premium price |
| – Quiet | – Large size (mini model available) |
| – Multiple Speeds | |
| – Quality materials | |
Pulseroll Massage Gun Review
I've just given a quick outline of the features above but I've now had the Pulseroll Pro Massage Gun for 2 months and feel that is more than enough time to now give a detailed review.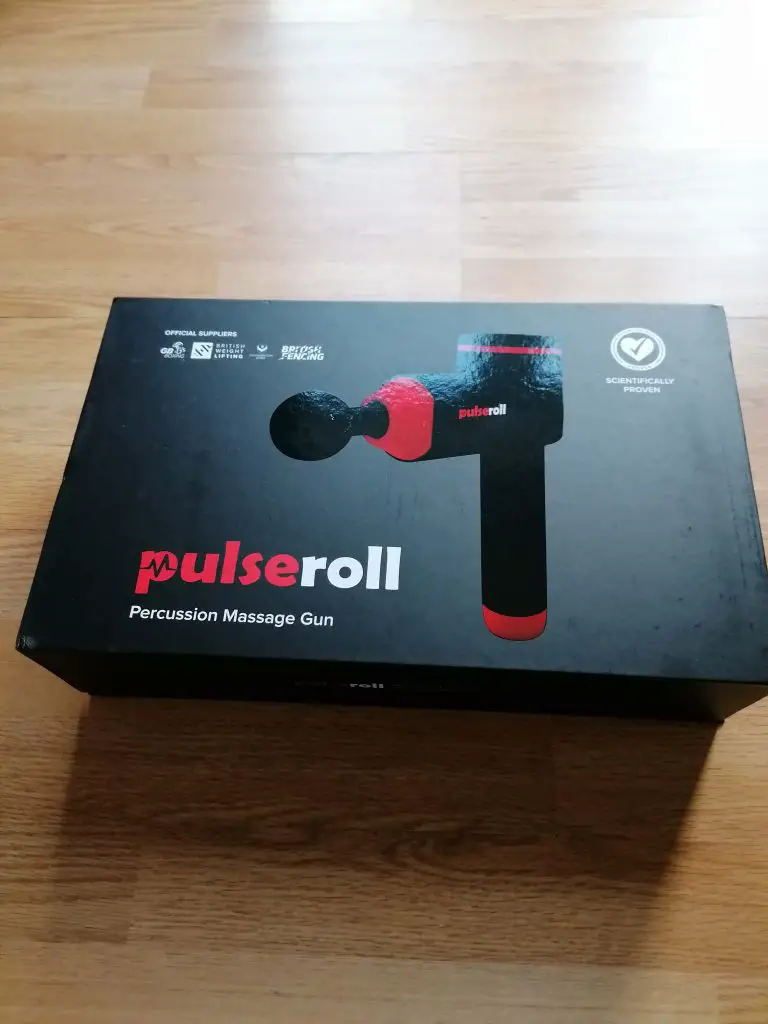 Specifications always look good on paper but when it comes to using a product, you want to make sure they perform as advertised and that you are getting value for money. 
There are some very cheap massage guns on the market – considering Pulseroll is a more premium-priced product with superstar backing (Anthony Joshua), I want to truly put it to the test and give my opinion to anyone that is considering buying one. 
I'm a certified nutritionist, fitness instructor, health & fitness writer, and have 10+ years of training experience. 
I'm not a specialist when it comes to massage therapy or rehabilitation but when it comes to strength training or general fitness, I can give a fair review that most people can relate to. I've got my share of tight muscles and nagging injuries so I'm using this product out of need and not to review it as an "expert". 
Quick review of the Pulseroll Pro Massage Gun: The Pulseroll Pro is a premium quality massage gun that is quiet during use, comes with a range of speed settings from 1300 RPM – 3300 RPM to suit both beginners and seasoned athletes (like ambassador Anthony Joshua) and features more attachments than other massage guns on the market. It's premium-priced but more than competitive with similar products on the market. 
Delivery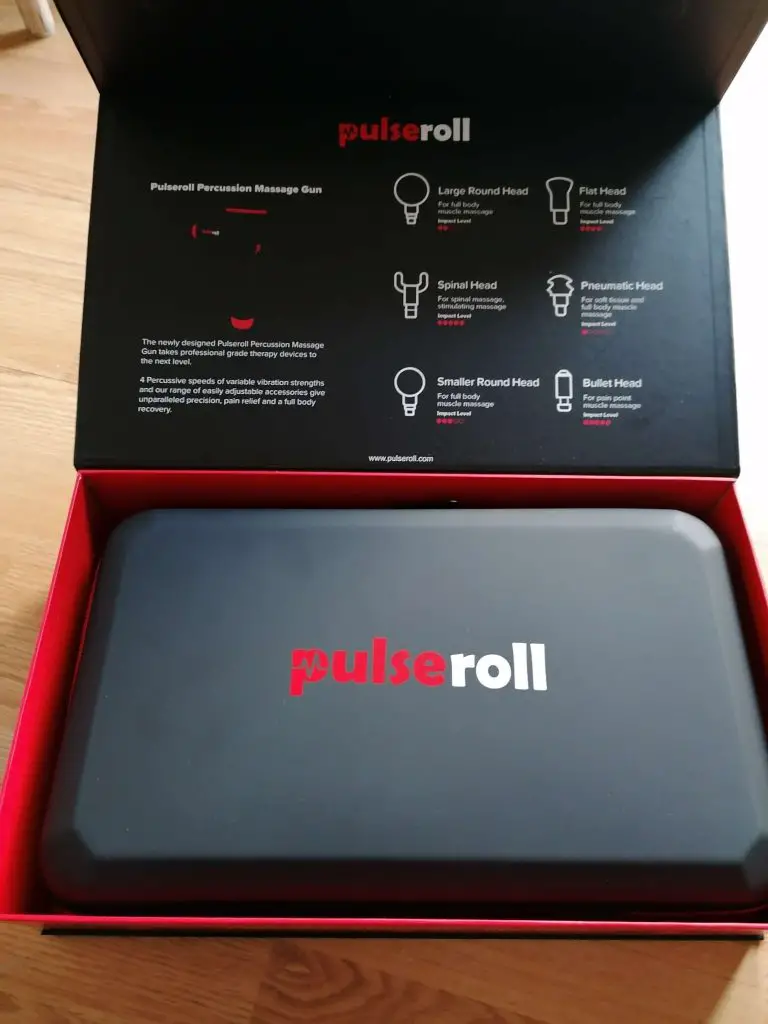 The Pulseroll was delivered within 3 working days after ordering and came in premium packaging – I'd instantly left a review on Trustpilot simply because I'd been used to Amazon orders over the last two years as a result of lockdown and this was the best-presented delivery I'd received in that time. 
What's In the Box (Attachments)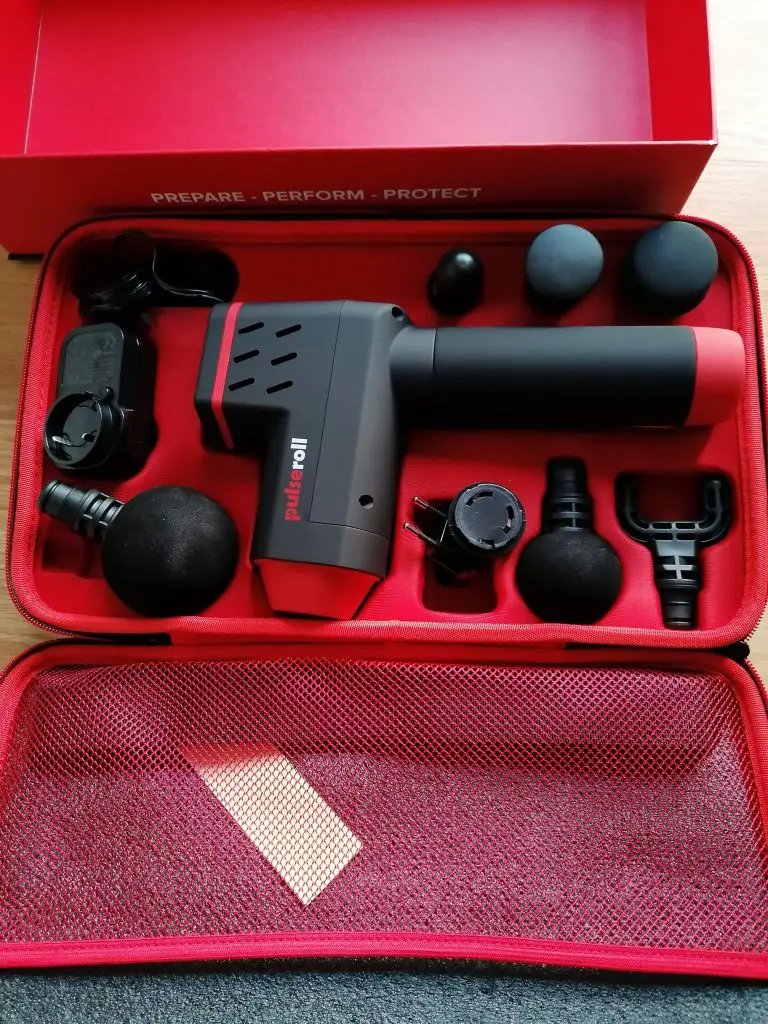 Firstly, the Pulseroll Pro massage gun comes in a well-presented box which makes it ideal for gifting, however, once you open the initial box you'll also be presented with the Pulseroll Pro carry case. This case can be personalised and securely fits all attachments, a charger, adaptors, the massage gun, and instructions in one place. 
This makes it ideal for transportation, though I've only brought it out of the house on one occasion so show and test it on family members. Still, it was easy to transport and is lightweight enough to easily fit in most gym bags. 
When we narrow down to what is in the box, you'll find the items listed above and to be more specific – the following 6 attachments:
Large round head
Small round head
Flat head
Pneumatic head
Bullet head
Spinal head
When comparing this against like-for-like models, the average number of attachments within the price range is 4 so you are getting a good variety when it comes to the Pulseroll Pro. 
You also get a charger, different adaptors, a warranty, and also an instruction manual for correct use – though Youtube and the Pulseroll website are better places to look for instructions as they can walk you through different uses. 
Speed
The Pulseroll Pro massage gun comes with 4 speed settings:
| | | |
| --- | --- | --- |
| Level | Speed | Mode |
| Level 1 | 1300 RPM | Low power mode |
| Level 2 | 1800 RPM | Medium power mode |
| Level 3 | 2500 RPM | High power mode |
| Level 4 | 3300 RPM | Ultra high power mode |
Level 1 (low power mode) is the ideal mode for beginners. If you are new to percussion massage, you are going to want to start on level 1. I've tested this on friends and family and level 1 lets them get a feel for it and get used to the 
Noise
I don't know what I was expecting when firing it up the first time but the gentle hum on level 1 was a good indication that this was not going to be a loud massage gun. With a powerful motor providing 3300 revolutions per minute, you'd expect so serious noise to come out from this product. 
While the level 4 mode (3300 RPM) is moderately loud at around 70db, it's not so loud that it's distracting or disturbing. Moving through the levels, I'd say this is one of the quieter massage guns on the market.
Comfort
Personally, I found the comfort of this product to be the key feature and the only drawback for me (personally) is that it's quite a large product. 
The size is good for control when using it on someone else or when using it on your lower body or front side but when trying to get into those hard to reach areas it can be quite difficult to control. 
In terms of using this on yourself though – the Pulseroll Pro has a thick handle with a thumb groove indent to the rear. This indent allows you to place your thumb into it and ultimately apply more force against the muscle you are working on. 
The large attachments come with a foam head for added comfort during use and from a product perspective, it feels smooth and comfortable during use. The other point to make is that when getting rid of tight knots or tight muscles, there will be some discomfort but that is part of the process and would be the case with any massage gun. 
Price
When it comes to price, there's no denying that the Pulseroll Pro is in the higher price range. Firstly, that's a giveaway by the name as it's intended to be a professional standard model. While there is a cheaper model available in the Pulseroll Mini, the Pulseroll Pro is certainly a more premium-priced product. 
When comparing it against other premium massage guns though, it's not too expensive by comparison. In the UK, the Theragun is the most expensive massage gun usually priced between £50 – £250 more than the Pulseroll Pro depending on the model. The Hypervolt Go and MyoPro have similarly priced models while the MuscleGun Carbon is a similar model coming in at £20 cheaper. 
Overall, the Pulseroll Pro is priced very competitively within its price range given the features and other premium massage gun price points. It may seem like an expensive purchase but there are plenty of budget massage guns to choose from. 
If you are looking for something of better quality, the Pulseroll Pro is reasonably priced and ticks that box. 
Check out the Pulseroll Pro price here
Product Quality
Arguably the features that make the Pulseroll Pro stand out is its quality of materials, specifications, and functions. I've mentioned that it's a higher-priced massage gun but the quality of the product certainly justifies it. 
Despite being a large product in terms of size, it's incredibly lightweight at just 1.1kg and runs very quietly until you get to the highest mode at level 4. Even at level 4 though, the noise is not an actual issue with a noise reading of around 70db is a comparable noise output of a washing machine, shower, or regular conversation in an office or restaurant so definitely not what you'd consider loud. 
The exterior is made from thick rubber and seems to be a solid construction that houses both the battery and motor. I've not had it for long enough to speak in terms of longevity and don't want to test it by dropping it but it's reasonable to say it feels much more solid, sturdy, and durable than any budget-priced massage gun. 
Overall Rating for the Pulseroll Pro Massage Gun (Should You Buy It?)
Overall, I'd rate the Pulseroll Pro Massage Gun 8.5/10. This is based on the following benefits:
Easy to use for both beginners and elite athletes
Very quiet when in use – even on the highest setting the massage gun won't disturb everyone in your household or when using it in the gym
Multiple attachments provide everything you need from reducing muscle soreness after working out to increasing blood flow in tight muscles with some trigger point work. 
It's comfortable to grip due to the thick handle and thumb groove whilst also being lightweight. Just note my only issue is that it's a very large size so I might be better using the mini version of this model.
Comes with a carry case for storage and ease of use when travelling.  
I'm yet to use any of the other premium massage guns on the market like the Thergun, however, I've used some of the cheaper models available and the Pulseroll Pro more than justifies its price. 
Summary
The Pulseroll Pro is the first massage gun that I personally own, and while I've used other massage guns that friends and people in the gym own – the Pulseroll Pro definitely seems to be a great product in comparison. I've only had it for 2 months so while this has been long enough to make constant use of the product, I'm by no means an expert! 
I've not used any of the other premium-quality (or pricey) massage guns but the difference in quality is definitely noticeable compared with some of the cheaper £50 – £75 massage guns that I have used. 
The range of speeds, minimal noise during use, and also the comfort of use all mean that I'd give this product a solid 8.5/10 – this could be a 9 but I'd need to test some of the more popular models first before getting carried away with a recommendation. 
If anyone has any questions about using this product (or other massage guns for that matter), feel free to drop me an email and I'd be happy to answer any questions or help where possible.
What Next

If you are looking to make changes to your physique by either losing body fat, building muscle or looking to maintain a lean physique then sign up to my weekly newsletter below. Each week I send out actionable tips to help you lose that extra 1lb of fat or build that extra 0.5lb of muscle mass on a weekly basis. 

If you sign up now you'll also receive my 28 day body recomp program completely Free. This ebook will be sent straight to your inbox and will provide an intense 28 day program aimed at helping you lose up to 8lbs of body fat whilst also building 2lb-4lb of lean muscle mass in just 4 weeks.

Don't worry if you're not ready for an intense program just yet, my weekly newsletter will give smaller tips that when implemented daily, will stack up over time and see you transform your body with seemingly minimal effort!